MUJRIM HAAZIR - based on a novel by Bimal Mitra - is known as a classic in Indian literature.
Set in the early 20th century in Bengal, Mujrim Haazir is the story of Sadanand Chowdhary, grandson and sole heir of the feudal Lord Narnarayan Chowdhary, a cruel old man who prefers to forget that he rose from the ranks of an ordinary munshi (clerk).
Sadanand rebels against the atrocities inflicted upon the poor farmers and other labourers by the feudal lords and particularly his grandfather.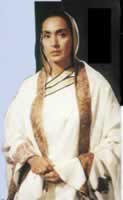 He is determined to put an end to the Chowdhury family name and the feudal system by not having children himself, even later when he becomes married to the beautiful only daughter of a schoolmaster.
Mujrim Haazir is also the story of Nayantara, the beautiful wife of Sadanand who, for no fault of her own is forced to live with the celibacy her husband practices as well as suffering from the hands of her in-laws.
Its a tragic tale of two people who loved and understood each other right to the end, but who were forced to live apart and have separate lives due to the circumstances that surrounded them.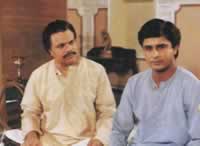 For more information on the drama 'Mujrim Haazir' and also our other dramas that we can offer you please contact us at serials@suman.com