The original MAHABHARAT is acknowledged as the greatest epic ever to grace the Indian television screen.
Its magnificence and grandeur, as well as the drama of the story it tells ensured that it was to go down in history as the most popular television programme ever to be broadcast on India's national television network - Doordarshan.
However, the complexities of the story of the Mahabharat made it impossible to tell the full story, even within the 94 episodes of the original series.
Therefore MAHABHARAT - 2, the second part of this epic and fascinating story is now in production.
MAHABHARAT - 2 moves back in time a little and begins before the war started with the story of Veer Barbarik, grandson of Bhim who was asked by Lord Krishna not to fight in the war. Veer Barbarik cannot refuse but requests that he be allowed to see the battle. Krishna agrees but only on one condition; that Barbarik cuts off his head and places it in Krishna's care who will keep it alive until the war ends.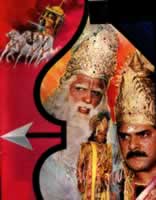 Barbarik obliges and his absence ensures the Pandavas victory seen at the end of the original MAHABHARAT.
From here, MAHABHARAT - 2 carries on the story through the aftermath of the great battle at Kurukshetra, looking at the reasons and result of the war. The story chronologically moves through events including Veer Bahruvahan (the son of Arjun) and his conflict with the Pandavas and finishing off with the Pandavas entering heaven after the death of Lord Krishna.
The series has only just begun its telecast in India yet already it is receiving positive reviews. As written in TeleExpress - the serial is a blockbuster, bringing out meanings without overt preaching.... the introduction of new tales should hold the viewer spellbound.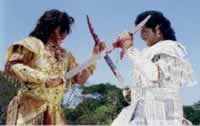 For more information on the drama 'Mahabharat PART 2' and also our other dramas that we can offer you please contact us at serials@suman.com