A weekly 30 minute showcase of the latest productions in Indian cinema complete with movie clips, behind the scenes footage, interviews with stars and directors and reviews of the movies themselves.
As well as providing the regular news, reviews, gossip and interviews, also offers the viewer more in depth features than the usual Asian entertainment programme.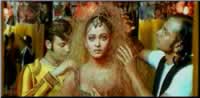 Typical features can include biographies of some of the most important players in Indian cinema or features on the influence Indian cinema has on other forms of entertainment outside of India including interviews with Andrew Lloyd Webber, producer of the stage play "Bollywood Dreams".
In addition to Indian cinema "Hello Bollywood" also takes a view on the newly emerging Indian theatre scene in it's "Stage and Glamour" section informing viewers of the latest productions offered in India and overseas.
An absolute hub of info for any Indian movie fan, with news and reviews, gossip and interviews, the program is a fully-fledged entertainment news show where everything and anything related to the wonderful world of Indian film and music is featured.